ITI: Industrial Training Institute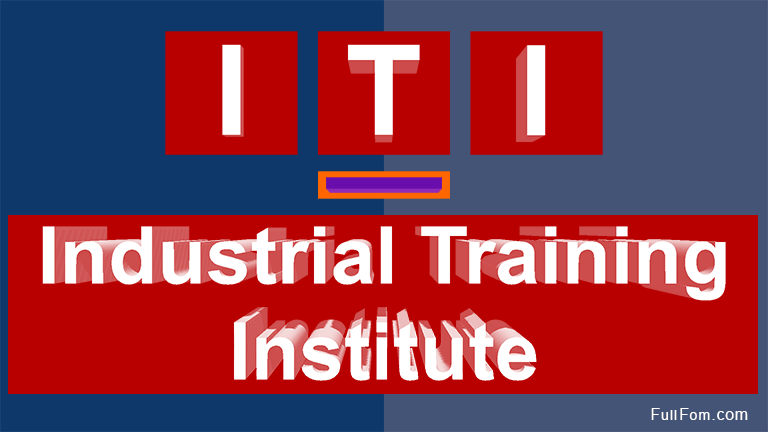 The full form of ITI is Industrial Training Institute. It is also known as ITI's. ITI is a government training institute responsible for providing industry related training to students. These institutes are specifically set up to impart technical knowledge of students who have just passed 10th standard and want to get some technical knowledge instead of pursuing higher studies. The ITI is formed to provide training in various trades under the Directorate General of Employment and Training (DGET), Ministry of Skill Development and Entrepreneurship and the Central Government. Industrial Training Institute (ITI) provides training for various industries Like Mechanical, Electronics, Information Technologies, Fabrication, Automobile, Diesel Mechanics, Lift Mechanics, Computer Software, Sheet metal, Electrical, Plumbing, Wire man etc. The courses offered under ITI are known as "trades".
Admission process
Admission to the various trades are done every year in August. The admission procedure is started before the commencement of the new session. Under the NCVT guidelines admission in ITI is made On merit based/written examination.after 8th 10th and 12th one can take admission. Admission to the private ITIs are done directly. For ST,SC and OBC students, scholarship is provided by the government.
Other full forms of ITI
Information Technology Institute
International Theatre Institute
Indian Telephone Industries
Institute of Translation & Interpreting
International Trachoma Initiative
Intercultural Theatre Institute
Information Trust Institute
International Training Institute
International Theological Institute
Itambacuri Airport
Infrastructure Technology Institute
Integrated Thematic Instruction
International Teamworks, Inc.
Indian Telephone Industry
Inter-Trial Interval
Incremental Tree Induction
Instructor Training Institute
Insight Technology, Inc.
Information Technology and Informatics
Illinois Teenage Institute
Interdisciplinary Thematic Instruction
International Trading Incorporated
Industrial Training Institutes
International Training Inc
International TechneGroup Incorporated
Industrial Training International
International Tableware Inc
Information Technologies Inc