NET: National Eligibility Test
The full form of NET is "National Eligibility Test". This is a national admission test conducted by the UGC, especially for postgraduate (PG) students who wish to pursue a teaching career as an assistant professor or wish to obtain a Ph.D. as Junior Research Fellowship (JRF) in India. The National Eligibility Test (NET) is also known as UGC NET or NTA-UGC-NET. This exam is considered one of the most difficult in India, with a success rate of only 6%. Previously, the approval rate was around 3% to 4%. Assistant teachers in private schools may or may not have NET qualifications, but NET qualifications are mandatory for universities and government colleges.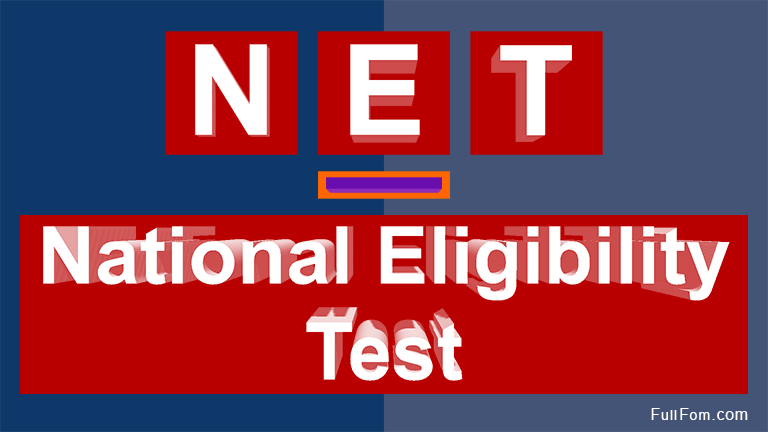 NET exam is carried out in many disciplines, such as Computer Science and Engineering, Computer application, Social Science, Forensic Science, History, Political Science, Sociology, Anthropology, Home Science, Education, Law and many others, in addition to subjects of literature such as Hindi, English, Sanskrit, Rajasthan, Marathi, Gujarati, Spanish, French, Japanese, etc. The UGC conducts this test every year (twice a year) throughout India. The examination of scientific subjects is carried out by UGC CSIR NET. It is the Council of Scientific and Industrial Research. This exam was first performed in 1989 and since then it has been done twice a year. The University Grants Commission (UGC) announced in 2013 that candidates who managed to pass NET would be eligible for lucrative jobs in public sector undertakings (PSU).
Other full forms of NET
| Full Form | Category |
| --- | --- |
| Internet | Internet |
| Narcotics Eradication Team | Law & Legal |
| National Educational Television | TV & Radio |
| National Electrotechnical Training | US Government |
| National Emphysema Treatment | Physiology |
| National Environmental Trust | Non-Profit Organizations |
| National Evangelisation Teams | General |
| Natural Environment Training | US Government |
| Naturalistic Education Theory | Universities & Institutions |
| Neighborhood Evangelism Training | Religion |
| NETwork | Domain Names (TLD) |
| Network Enabled Technology | Technology |
| Network Service Providers | Domain Names |
| Network support centers | Domain Names |
| Neuro Emotional Technique | Physiology |
| Neuroendocrine Tumour | Diseases & Conditions |
| Never Ever Try | Educational |
| New Earth Teachers | Educational |
| New England Telephone & Telegraph | Companies & Corporations |
| New English Translation | General |
| New Equipment Training | Military |
| New Evangelism Technologies | Religion |
| No Earlier Than | General Business |
| No Easy Targets | General |
| Non Equity Theater | Performing Arts |
| Non-Equilibrium Thermodynamics | Engineering |
| North End Of Town | Community |
| North European Oil Realty Trust | NYSE Symbols |
| Not Earlier Than | General |
| Not Entirely True | Texting |
| Nottingham Express Transit | Rail Transport |
| Null End Tag | General Computing |
| Nurse Entrance Test | Universities |