UPA: United Progressive Alliance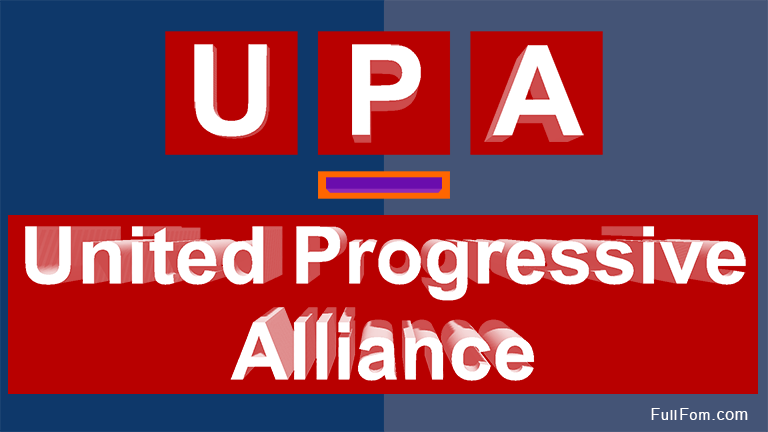 The full form of UPA is United Progressive Alliance. UPA is a coalition of left and centre-left political parties in India formed post the 2004 general elections when it had become clear that no party had won an absolute majority. Until then the ruling Bharatiya Janata Party-led National Democratic Alliance (NDA) had won 181 seats in the 543-member 14th Lok Sabha, as opposed the UPA's tally of 218 seats. Congress leader Sonia Gandhi opted not to take the premiership and instead recommended Manmohan Singh, a Sikh, for the post.
The Congress made significant gains in the 2009 parliamentary elections, increasing its seat total in the Lok Sabha to 206; conversely, the BJP's total fell to 116. Singh formed another UPA coalition cabinet and was sworn in for a second term, becoming the first prime minister since Jawaharlal Nehru to do so after having served a full five-year first term. However the United Progressive Alliance (UPA) lost major popularity in the 2014 General Elections after many elected representatives of the UPA were accused in various scams and scandals.
Other full forms of UPA
Full Form
Category
Union des Producteurs Agricoles
Organizations
Usability Professionals' Association
Associations
College of Urban and Public Affairs
Colleges
Punta Alegre, Cuba
Airport Codes
U Prep Academy
Academic & Science
Uganda People's Army
Rebel Groups
Ulster Protestant Action
Religion
Ulta Pulta Alliance
Alliances
Ultimate Players Association
Sports
Ultra Port Architecture
Architecture
Un Paso Adelante
General
Un Principled Alliance
Alliances
Underground Producers Alliance
Alliances
União dos Povos de Angola
Politics
Unidad Productiva Agropecuaria
General
Uniform Partnership Act
Law & Legal
Unión de Pequeños Agricultores
Spanish
Unión Popular de Artistas
Spanish
Unique Particle Attribution
Internet
United Partnership Association
General Business
United Pilots Alliance
Transportation
United Powerlifting Association
Associations
United Productions of America
Companies
United Progreesive Alliance
Politics
United Property Associates
General
United States Professional
Poolplayers Association
Sports
Universal Port Architecture
Unions
Universal Powerline Association
Organizations
Universal Programmer Analyser
General
University of Pennsylvania
Universities
University Park Apartments
Universities
University Pediatric Association
Universities
University Physicians' Association
Universities
University Prep Academy
Academic & Science
University Preparatory Academy
Universities
University Press of America
Companies
UnPack Area
Assembly
Urban and Public Affairs
General
Urban Promise Academy
Academic & Science
Urokinase Plasminogen Activator
Physiology
Usability Professionals' Association
Associations
Use all Power Available
Assembly
Utenti Pubblicità Associati
Organizations
Utility Partners of America
General