1) NSA: National Security Agency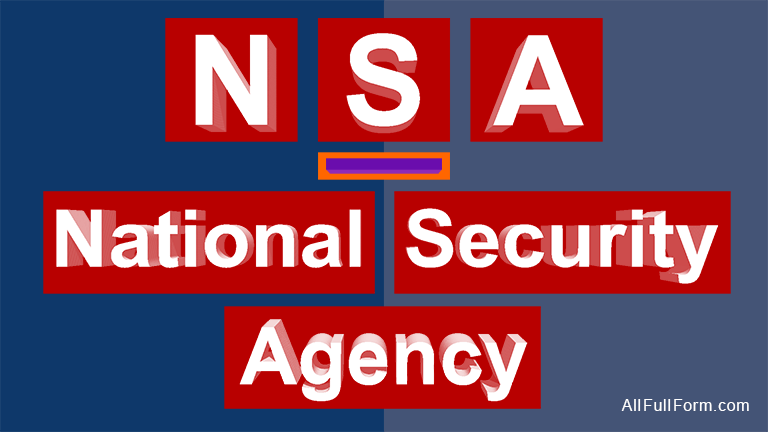 In the USA, the full form of NSA is "National Security Agency (NSA)". It is a national-level intelligence agency of the United States Department of Defense, under the authority of the Director of National Intelligence. NSA is formed in November 4, 1952 with the motto "Defending Our Nation. Securing the Future." and its Headquarter is located in Fort Meade, Maryland. The NSA is responsible for global monitoring, collection, and processing of information and data for foreign and domestic intelligence and counterintelligence purposes, specializing in a discipline known as signals intelligence (SIGINT). The NSA is also tasked with the protection of U.S. communications networks and information systems. The NSA relies on a variety of measures to accomplish its mission, the majority of which are clandestine.
2) NSA: National Security Advisor
In India the full form of NSA is "National Security Advisor (NSA)". The National Security Advisor is the senior official on the National Security Council of India, and the chief adviser to the Prime Minister of India on national security policy and international affairs. NSA is appointmented by Committee of the Cabinet (ACC). The post was created on 19 November 1998 by the Government of Atal Bihari Vajpayee, and has become increasingly influential and powerful over the years with the rise of India on the world stage. Brajesh Mishra was appointed the first National Security Advisor of India and ss on January 2020 Ajit Doval is the current NSA. It has the same stature as a minister on the union cabinet. The National Security Advisor (NSA) is tasked with regularly advising the Prime Minister of India on all matters relating to internal and external threats and opportunities to India, and oversees strategic and sensitive issues on behalf of the Prime Minister. The NSA of India also serves as the Prime Minister's Special Interlocutor with China as well as the envoy to Pakistan and Israel on security affairs.
3) Other popular full forms of NSA
| | |
| --- | --- |
| Full Form | Category |
| Napier Students Association | Universities |
| National Safety Associates | Companies & Firms |
| National Sanitary Association | Professional Organizations |
| National Sanitation Association | Professional Organizations |
| National Scholars Academy | Universities |
| National Security Administratiojn | Unclassified |
| National Security Agent | Unclassified |
| National Sheep Association | Veterinary |
| National Skateboard Association | Professional Organizations |
| National Slag Association | Professional Organizations |
| National Snipers Association | Professional Organizations |
| National Socialist Alliance | Politics |
| National Society of Astronomy | Astronomy |
| National Society of Athletes | Societies |
| National Speakers Association | Toastmasters |
| National Spiritual Assembly | Religion |
| National Stone Association | Professional Organizations |
| National Stroke Association | Non-Profit Organizations |
| Natsionalna Sportna Akademija | Sports |
| Natsionalna Sportna Akademiya | Universities |
| Natural Supplement Alternative | Food & Nutrition |
| Naval Support Activity | Military |
| Negative Security Assurance | Funnies |
| Neighborhood Statistical Area | Community |
| Network Security Administration | Cyber & Security |
| Network Security Appliance | Hardware |
| Network Supported Accounts | Unclassified |
| Neutron Star Atmosphere | Astronomy |
| Never Say Anything | Funnies |
| New Sith Ascendency | Funnies |
| New Sliding Arm | Unclassified |
| Nichiren Shoshu of America | Companies & Firms |
| Nippon Students Association | Universities |
| No Significant Abnormalities | Physiology |
| No Straight Answers | Funnies |
| No Strings Attached | Funnies |
| No Such Address | Unclassified |
| No Such Agency | Funnies |
| No Such Animal | Texting |
| Non Self Accepting | Educational |
| Non-Service Affecting | Telecom |
| Norway, Sweden, and Austria | Regional |
| Norwegian Security Alliance | Alliances |
| Not Seasonally Adjusted | News & Media |
| Not So Attractive | Chat |
| Novo Sono Ardesco | Unclassified |
| Nukes Sail Away | Funnies |
| Nursing Students Association | Universities |
| Nuyan Sangyo America | Companies & Firms |