PFI: Popular Front of India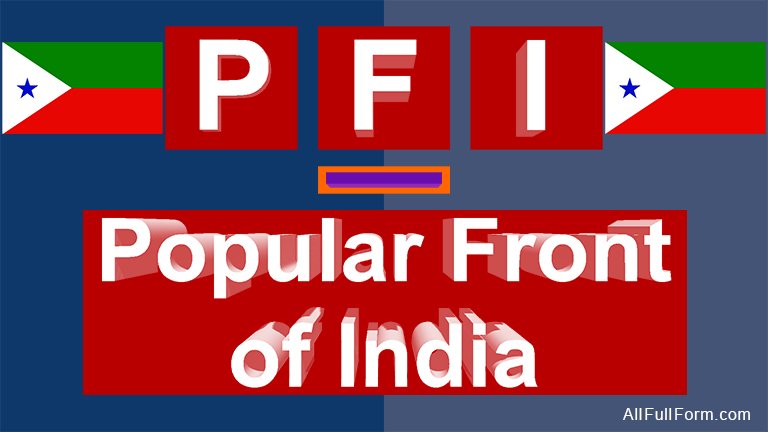 The full form of PFI is "Popular Front of India". It is an extremist and Islamic fundamentalist organisation in India formed as a successor to National Development Front (NDF) in 2006. It acquired a multi-state dimension by merging with the National Development Front, Manitha Neethi Pasarai, Karnataka Forum for Dignity and other organisations. PFI describe themselves as a neo-social movement committed to empower people to ensure justice, freedom and security. It is raising the voice of hardline Muslims and protecting the country from the wrong policies of the government. The organisation has various wings to cater to different section of society, including the National Women's Front and the Campus Front of India.
Popular Front of India (PFI) has various allegations include connections with various Islamic terrorist groups, possessing arms, kidnapping, murder, intimidation, hate campaign, rioting, Love Jihad and various acts of religious extremism.In 2010, the PFI was alleged to have links with the banned Islamic terrorist organisation Students Islamic Movement of India (SIMI). The PFI's national chairman, Abdul Rehman, was the former national secretary of SIMI, while the organization's state secretary, Abdul Hameed, was SIMI's former state secretary. Most former leaders of SIMI were either identified with PFI or were holding various portfolios in the organisation. Retired Indian army officer P. C. Katoch has claimed that the PFI maintains links with the Pakistani intelligence agency, ISI.
Other popular full forms of PFI
Paul Fletcher International
Paws For Independence
Pay For Inclusion
Pelican Financial, Inc.
Planning For Improvement
Port Fuel Injection
Pride Fowler Industries
Prison Fellowship International
Private Finance Initiative
Profits From Illness
Programmable Fuel Injection
Programmable Function Input
Provisional Full Internet
Public Finance Initiative