CRPF: Central Reserve Police Force
The full form of CRPF is Central Reserve Police Force. It is a India's paramilitary force and largest Central Armed Police Force. CRPF works under the Ministry of Home Affairs, Government of India. On 2001 Indian Parliament attack the CRPF troopers killed all five terrorists who had entered the premises of the Indian Parliament. Its motto is Service and Loyalty and its headquarter is situated New Delhi. As of July, 2021 Mr. Kuldiep Singh,IPS is the Director General of CRPF.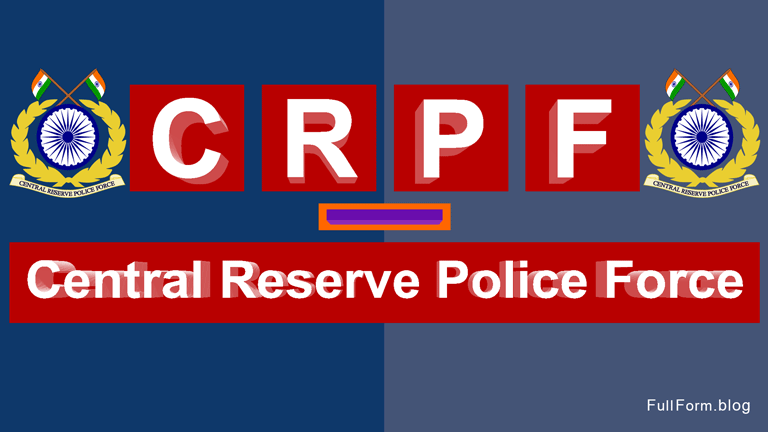 Goal
Its primary goal is to assist the state and union territory governments in maintaining law and order in their areas. Besides law and order and counter-insurgency duties, the CRPF has played an increasingly large role in maintaining peace while India's general elections. CRPF contingents are also being deployed in UN missions.
Mission
The mission of the Central Reserve Police Force (CRPF) shall be to enable the government to maintain Rule of Law, Public Order and Internal Security effectively and efficiently, to Preserve National Integrity and Promote Social Harmony and Development by upholding supremacy of the Constitution.

https://crpf.gov.in/about-us.htm
Other full forms of CRPF
| Full Form | Category |
| --- | --- |
| Christopher Reeve Paralysis Foundation | Regional Organizations |
| Cancer Research and Prevention Foundation | Medical Organizations |
| Central Railway Police Force | Police |
| Chalte Raho Pyare Force | General |
| Child Research and Practice Forum | Forums |
| Closed Reduction And Percutaneous Fixation | General |