ADB: Asian Development Bank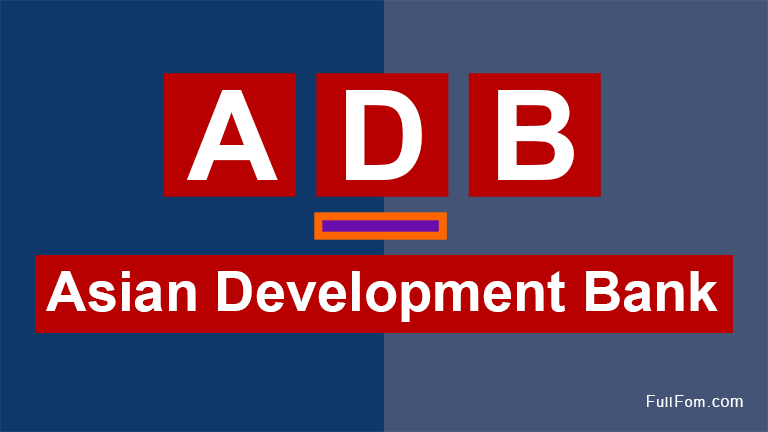 The full form of ADB is Asian Development Bank. It is a financial institution that promotes economic and social progress in the Asia-Pacific region. It was established to reduce poverty and foster economic growth and cooperation in Asia and the Pacific. It assists in the socio-economic development in member countries by providing loans, grants and technical assistance. It has 67 members, 48 of which are from Asia and the Pacific region. After its creation in the 1960s, ADB focused much of its assistance on food production and rural development. At the time, Asia was one of the poorest regions in the world.
The headquarter of the Asian Development Bank (ADB) is located at Mandaluyong, Philippines. It also maintains 31 field offices in Asia and Pacific and representative offices in Washington, Frankfurt, Tokyo and Sydney. As of April 2020, Masatsugu Asakawa is the president of ADB. The ADB was modeled closely on the World Bank and has a similar weighted voting system where votes are distributed in proportion with member's capital subscriptions.
Other full forms of ADB
| Full Form | Category |
| --- | --- |
| Automatic Differential Brake | Automotive |
| Android Debug Bridge | Technology |
| Advanced Digital Broadcast | Companies & Corporations |
| Australian Dictionary of Biography | Internet |
| African Development Bank | Banking |
| Apple Desktop Bus | Networking |
| Ada Package Body | File Extensions |
| Accidental Death Benefit | General Business |
| Antonov Design Bureau | Military |
| Alien Drum Bunny | Funnies |
| Active Dimension Battle | Military |
| Apple Data Bus | Networking |
| Advanced Digital Broadcasting | News & Media |
| A Different Beat | Music |
| Application Development Board | Military |
| Appointment database (HP 100LX organizer) | File Extensions |
| Advanced Digital Bridge | Electronics |
| Izmir Adnan Airport, Menderes, Turkey | Airport Codes |
| Another Dumb Bunnie | Chat |
| Android Developer Bridge | Technology |
| Automatic Data Behandling | Databases |
| Annoying Dork Boy | Names and Nicknames |
| American Drill Bushing | Unclassified |
| Asian Development Blog | Blogs |