APBS: Aadhaar Payment Bridge System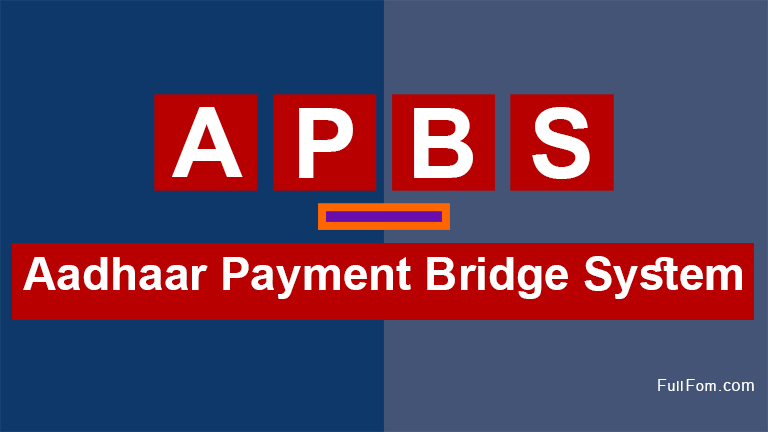 The full form of APBS is Aadhaar Payment Bridge System. It is a payment system based on Aadhaar numbers issued by UIDAI & IIN (Institution Identification Number) and implemented by NPCI. Aadhaar Payment Bridge System (APBS) is used for credit transactions for Government or Government agency disbursements of benefits and subsidies under Direct Benefit Transfer (DBT) scheme launched by the Government of India. For example, APBS is used for the transfer of LPG subsidy. Main benefit of APBS is to sub-serve the goal of Government of India (GOI) and RBI in furthering Financial Inclusion by way of processing government disbursement using Aadhaar number.
Features of Aadhaar Payment Bridge System (APBS)
Banks can upload/download transaction files through secured web access.
Banks can get connect to NPCI either through NPCINet or Internet.
Transaction routing on the basis of IIN issued by NPCI.
Transaction processing by destination banks on the basis of Aadhaar numbers.
It supports ISO 20022 messaging standards.
It supports multiple intraday sessions.
It provides Direct Corporate Access (DCA) to Government Departments and Agencies.
It provides online Dispute Management System (DMS).
It is capable to handle 10 million transactions per day.
It can process both onus and offus transactions.
It makes available enriched MIS to all the participants.
It provides secure Clearing and Settlement process.
Other full forms of APBS
| Full Form | Category |
| --- | --- |
| Adaptive Poisson-Boltzmann Solver | General |
| Association for Positive Behavior Support | Organizations |
| Appointment Payroll And Benefits System | General |
| Automated Property Book System | Military |
| Accounting Principles Board Statements | Accounting |
| Automated PEMA Budget System | General |
| Arallel Poisson Boltzmann Solver | General |
| Accounting Plus Business Services | Accounting |
| Avicenne Private Business School | Business |
| Alliance Professional Business Solutions | Business |
| Amphibian Phosphate Buffered Saline | General |
| Attendance Participation and Branding Social | General |
| Adjustable Plastic Bayonet Sensor | Hardware |
| Advanced Poisson-Boltzmann Solver | General |
| Automated Parcel Bundle System | Products |