The full form of CD and DVD is Compact Disc (CD) and Digital Versatile Disc (DVD) respectively.
CD: Compact Disc
CD stands for Compact Disc. A Compact Disc (CD) are small plastic discs which store and retrieve computer data or music using light. It is a digital optical disc data storage format that was co-developed by Philips and Sony and released in 1982. Compact Discs replaced floppy disks because they were faster and could hold more information. CDs can hold up to 700 MB worth of data, which is about 80 minutes of music.
Mini CDs were also made for special small programs like drivers. CDs that have computer information on them are called CD-ROMs, or Compact Disc – Read Only Memory. The diameter of a normal CD is 120 mm. The middle hole in a CD is about 1.5 cm. The format was originally developed to store and play only sound recordings (CD-DA) but was later adapted for storage of data (CD-ROM). The first commercially available audio CD player, the Sony CDP-101, was released October 1982 in Japan.
DVD: Digital Versatile Disc
DVD stands for Digital Versatile Disc or Digital Video Disc. It is a digital optical disc (DVD) storage format invented and developed in 1995 and released in late 1996. The medium can store any kind of digital data and is widely used for software and other computer files as well as video programs watched using DVD players. DVDs offer higher storage capacity than compact discs while having the same dimensions.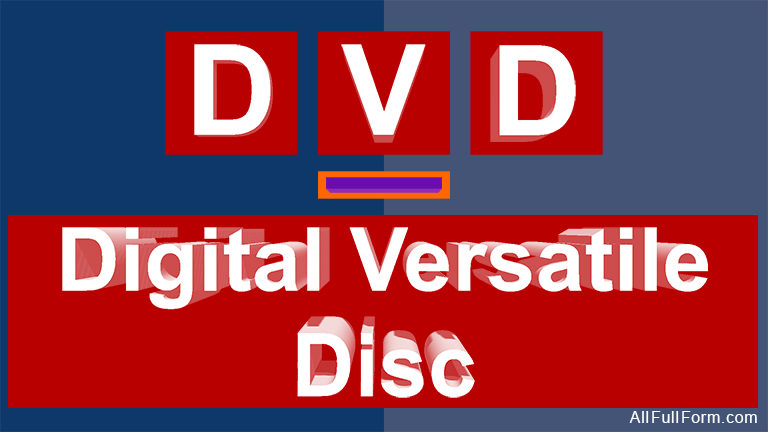 It is the same size as a CD, but has a larger storage capacity. The larger capacity formats are not supported by most standalone DVD players, but they can be used with many computer-based DVD drives. A standard DVD can hold 4.7 GB of data, but variations of the original DVD format have greater capacities. For example, a dual-layer DVD (which has two layers of data on a single side of the disc) can store 8.5 GB of data. A dual-sided DVD can store 9.4 GB of data (4.7 x 2). A dual-layer, dual-sided DVD can store 17.1 GB of data.
Some DVDs are formatted specifically for video playback, while others may contain different types of data, such as software programs and computer files. The original "DVD-Video" format was standardized in 1995 by consortium of electronics companies, including Sony, Panasonic, Toshiba, and Philips.
Other full forms of CD & DVD
CD full form
| Full forms | Category |
| --- | --- |
| Cable Driver | Military |
| Cadmium | Electronics |
| Canadian Dollar | Currencies |
| Can't Deliver | General Business |
| Cardiovascular Disease | Physiology |
| Career Development | General Business |
| Cause of Death | Physiology |
| Celine Dion | Famous & Celebs |
| Cendant Corporation | NYSE Symbols |
| Central District | Community |
| Certificate of Deposit | Stock Exchange |
| Change Directories | General Computing |
| Change Directory | General Computing |
| Child Development | Development |
| Christian Dior | Famous & Celebs |
| Circuit Design | Electronics |
| Civil Defense | Military |
| Collect Data | Unclassified |
| Collision Detection | Military |
| Communications Department | General Business |
| Communications Division | Police |
| Compact Design | Transportation |
| Conference on Disarmament | Military |
| Content Delivery | Internet |
| Continuing Development | Educational |
| Control Data | Military |
| Counter Drug | Military |
| Critical Dimension | Electronics |
| Cross Dresser | Chat |
| Democratic Republic of the Congo | Countries |
DVD full form
| Full forms | Category |
| --- | --- |
| DA Video DAPE | General |
| Dad's Volcanic Destruction | General |
| Dangerously Vindictive Damper | General |
| Death Valley Days | News & Media |
| Deliciously Varied Data | General |
| Delta Velocity Display | NASA |
| Dependable Video Discus | General |
| Deutsche Vereinigung für Datenschutz | Germany |
| Deutsches Verteidigungs Dienst | General |
| Developmental verbal dyspraxia | Diseases & Conditions |
| Digital Verifiable Disc | General |
| Digital Video Device | Military |
| Digital Video Discwhilst | General |
| Digital Virus Disease | General |
| Dinner Video Diary | Internet |
| Diploma in Venerology & Dermatology | Courses |
| Direct Vendor Delivery | Military |
| Dissociated Vertical Deviation | Physiology |
| Divers Droite | Politics |
| Dolby Video Disk | General |
| Double Volume Disk | Electronics |
| Dover Downs Entertainment, Inc. | NYSE Symbols |
| Drink Very Drunk | General |
| Drug versus Disease | Diseases |
| Drugs and Vice Division | Police |
| Dual View Display | Hardware |
| Dumb Video Ducks | General |
| Dumb Vs. Dumber | General |