DNB: Diplomate of National Board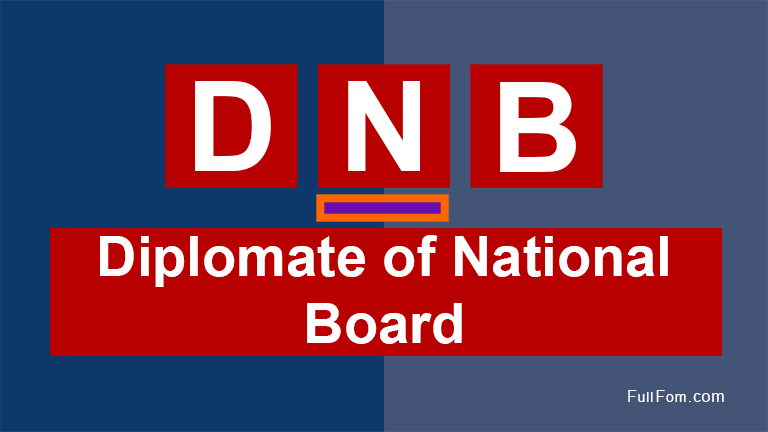 The full form of DNB is Diplomate of National Board. It is the title awarded by the National Board of Examinations (NBE), an autonomous academic body under the Ministry of Health and Family Welfare, Government of India. It is awarded to the candidates who successfully complete postgraduate or postdoctoral medical education under the NBE. People who completed an MD in their respective subjects are also eligible for appearing in the final Diplomate of National Board (DNB) certification exam along with regular DNB trainees. There are around 150 recognized medical colleges that offer DNB program. It does not stand for a single medical course. It is offered in various medical disciplines such as:
Cardiology
Cardiac Anaesthesia
Endocrinology
Clinical Pharmacology
Critical Care Medicine
Hematology
Gastroenterology
Neonatology
Medical Genetics
Medical Oncology
Rheumatology
Neurology
Neonatology
Nephrology
Neuroanaesthesia & Critical Care
Gastroenterology
Paediatric Cardiology
Eligibility
Those who have qualified their MBBS degree or equivalent examination with a minimum aggregate of 50 percent marks are entitled to admission. Admission for course is based on merit or entrance-exam. Individuals with a medical degree having a certificate of permanent registration given by MCI can opt for the course. A large number of colleges carry out counseling and choose students through the merit-list set by the state-wise universities. Some colleges carry out entrance exam to choose students for this course admission. Major entrance exams carried out by the colleges and universities are NEET PG, PGIMER, JIPMER PG, AIIMS PG.
Other full forms of DNB
| Full Form | Category |
| --- | --- |
| Do Not Bother | Chat |
| Death, Non Battle | FBI Files |
| Drum N Bass | Music |
| Denver National Bank | Banking |
| Den Norske Bank | Banking |
| De Nederlandsche Bank | Banking |
| Did Not Bat | Cricket |
| Dictionary of National Biography | Libraries |
| Division of Neuroscience and Behavior | General |
| Dutch National Bank | Banking |
| Died Non Battle | General |
| Day Night Band | Music |
| Discover No Backup | General |
| Don't Neglect Bilby's | Funnies |
| Drill N Bass | General |
| Dunkey N Bubberducky | General |
| Duties de Nederlandsche Bank | Banking |
| Design and Build | Products |
| Did Not Buy | Business |
| Do Not Buy | Business |
| Ducks Named Bonds | News & Media |
| Draw No Bet | Gambling |
| Dun & Bradstreet | NYSE Symbols |
| Do Not Bother | Chat |
| Diplomate National Board | India |