IIT: Indian Institute of Technology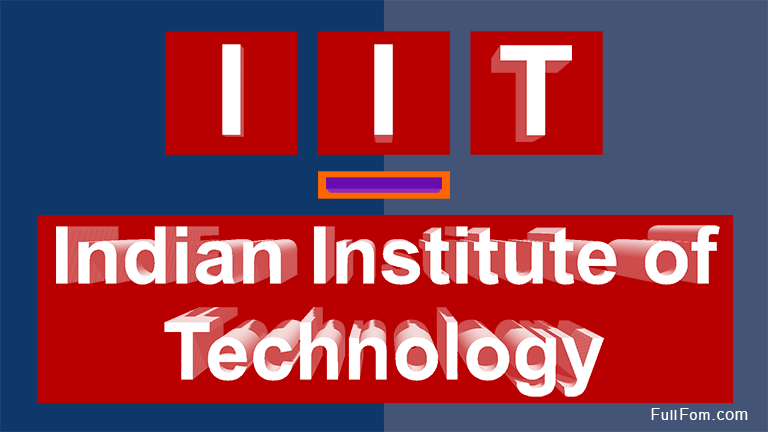 The full form of IIT is "Indian Institute of Technology". The Indian Institutes of Technology (IITs) are renowned, prestigious and autonomous public technical and research university located in India. They are governed by the Institutes of Technology Act, 1961 which has declared them as institutions of national importance and lays down their powers, duties, and framework for governance. In India, there are around 23 IITs that runs various Graduate and Post-Graduate programs in the field of electrical and electronics engineering, Mechanical engineering, civil engineering, computer science, Architecture and planning etc.
Each IIT is autonomous, linked to the others through a common council (IIT Council), which oversees their administration. Getting admission into IITs is considered to be very difficult task and people who have graduated from IITs have done great things. The Minister of Human Resource Development (HRD) is the ex officio Chairperson of the IIT Council. As of 2018, the total number of seats for undergraduate programs in all IITs is 11,279. The only major requirement to admit to these institutions is to pass the JEE (Advanced Joint Entrance Examination).
Courses offered by IITs:
Aerospace Engineering
Civil Engineering
Computer Science and Engineering
Chemical Engineering
Electrical Engineering
Mechanical Engineering
Metallurgical and Materials Engineering
Electronics and Communication Engineering
Instrumentation Engineering
Geo-Informatics And Natural Resources
Petroleum Geoscience
Production And Industrial Engineering
Applied Optics
Atmospheric-Oceanic Science and Technology
Design of Mechanical Equipment
Industrial Tribology and Maintenance Engineering
Molecular Engineering
Radio Frequency Design and Technology
Rock Engineering and Underground Structure
Solid State Materials
Design engineering
Biological Sciences And Bioengineering
Industrial & Systems Engineering
Medical Imaging &Informatics
Agricultural And Food Engineering
Earth Sciences
Mathematics And Scientific Computing
Atmosphere And Ocean Sciences
Development Studies
Master's Program in Medical Science and Technology
Other full forms of IIT
| Full Form | Category |
| --- | --- |
| Icetratt Investors and Traders | Advisory |
| Idiotic Institute of Technology | Technology |
| Iligan Institute of Technology | Technology |
| Illinois Institute of Technology | Universities & Institutions |
| Image Intensifier Tube | General |
| Impulse Invariant Transform | Electronics |
| Ind.inv.tst | London Stock Exchange |
| Indiana Institute of Technology | Technology |
| Individual Income Tax | Accounting |
| Indonesian Satellite Corporation | NYSE Symbols |
| Informatics Institute of Technology | Technology |
| Information and Infrastructures Technologies | General |
| Institute of Infinite Torture | Funnies |
| Institute of Information and Technology | Technology |
| Integrated Independence Team | British Medicine |
| Integrated Information Technology | Academic Degrees |
| Intelligent Interface Technologies | Companies & Firms |
| Inter-Island Terminal (Honolulu Airport) | Transportation |
| Intra Industry Trade | General |
| Is It Tight? | Texting |
| Italian Institute of Technology | Universities & Institutions |
| Iyengar Institute Of Technology | Universities |