1) PUC: Pollution Under Control
The full form of PUC is "Pollution Under Control". This is a certification mark provided to vehicles that pass the PUC test successfully. The Pollution under control (PUC) document is mandatory for all road vehicles, such as two-wheelers, four-wheelers and other commercial vehicles. The emission test is performed for petrol vehicles and free acceleration smoke test is performed for diesel vehicles. A valid driver's license, a valid insurance coverage and a PUC Certificate are the mandatory documents that every vehicle owner must have when driving a motor vehicle in India. This certificate is issued by the transportation department of a state.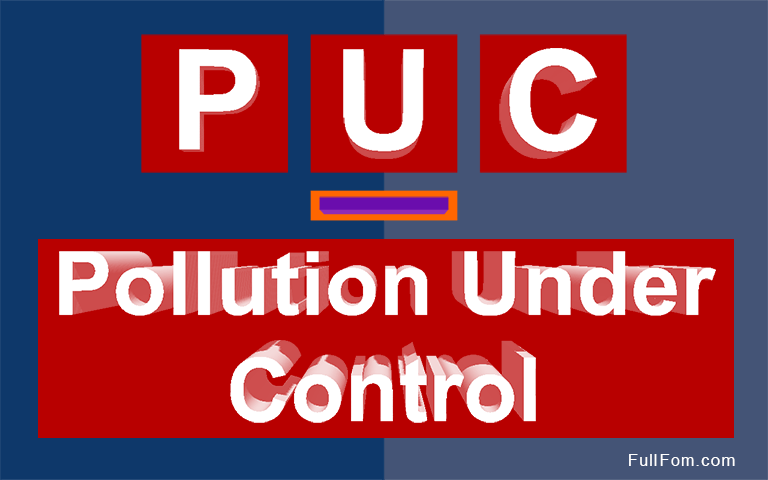 The validity of the PUC certificate is three to six months. If your vehicle receives the PUC certificate, it means that the vehicle's emissions from your car or bicycle are under control and in accordance with pollution regulations. In short, your car / bicycle is not a threat to the environment. If the vehicle owner does not carry the PUC certificate while driving, it may be punished under Section 190 (2) of the Motor Vehicles Act.
2) PUC: Pre-University Course
The pre-university course (PUC or PDC) is an intermediate course of two years, also known as 10+2/Plus-two or intermediate course. High school or tenth class students who successfully completed the final exams are eligible for PUC. The course is offered by public and private schools affiliated with the Central Board of Secondary Education (CBSE) or the respective state education boards. Upon successful completion of the PUC, it is possible to join a college or university for an appropriate degree course such as BA, B.Com, B.Sc, etc.
3) Other full forms of PUC
| Full Form | Category |
| --- | --- |
| Pacific Union College | Universities & Institutions |
| Page Update Checker | General |
| Pants up crack | General |
| Paris Université Club | Rugby |
| Partnerships to Uplift Communities | Community |
| Party Union Clash | Politics |
| Passive Uplink Connection | General |
| Pathé Unlimited Card | Movies & Film |
| Pay Up, Chump! | Chat |
| Payroll Unit Code | Accounting |
| PCI Universal Communications | Networking |
| Pentecost University College | Universities & Institutions |
| Per Unit Cell | General |
| Per Unit Choice | General |
| Permanent UNIMARC Committee | Committees |
| Personal and Ubiquitous Computing | Computing |
| Personal Unlock Code | General |
| Personal Update Checker | Software |
| Personal User Console | General |
| Personalized Unique Collection | General |
| Personnel Under Control | Military |
| Pierce Ultimate Configuration | General |
| Pillsbury United Communities | Community |
| Pollution Under Control | US Government |
| Pontificia Universidad Catolica | Universities |
| Postal Union Congress | Conferences & Events |
| Presidential Unit Citation | Military |
| Price, Utah USA | Airport Codes |
| Product Under Consideration | General |
| Psychologically Unstable Co-pilot | Psychology |
| Public Utilities Commission | Departments & Agencies |