CC: Carbon Copy
In the context of email, the full form of CC is Carbon Copy.The term is very popular on the Internet among email users. The CC field is used to send a message to more than one recipient. Some people place their email IDs in the CC field with the recipients' name.
If you want to send an email to your friend about a particular subject and you want the rest of the 4 friends to know what email you are sending, then you can enter the email address of the other 4 friends in the CC field. By doing CC, all five friends will know to whom you are emailed and their email IDs will also be visible to each other.
Carbon Copy (CC) is used a lot in companies because many people work together on many jobs in the company and the email should be received by everyone together and they also need to know to whom the email was sent. So CC is very important for them.
The term CC comes from a carbon copy in which a carbon copy is made by placing a carbon paper between two sheets and writing on the upper sheet. When you write something on the top sheet, this copy leaves a duplicate mark because it is on another sheet. You can make more carbon copies by placing more carbon paper and paper sheets between the top and bottom papers.
BCC: Blind Carbon Copy
BCC stands for Blind Carbon Copy. The acronym BCC has also been used in email. If you do not want the address of the email list to be known to everyone, then instead of using the CC field, their email address will have to be inserted in the Blind Carbon Copy (BCC) field.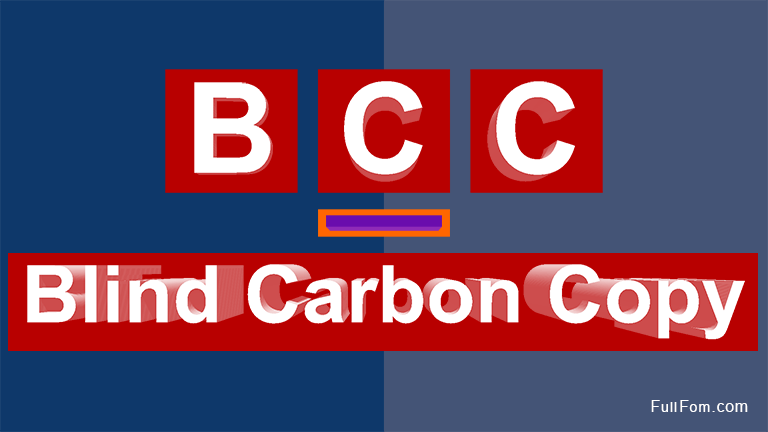 If you send an email to your five friends and you don't want those whom you have sent the email to know that this email has gone to someone else then you can use BCC to hide the list. By putting an email ID in the BCC field, no one will know to whom the email has been copied. In CC the reply of email is also detected but in BCC the reply is hidden.
Other full forms of CC & BCC
| CC Full Form | Category |
| --- | --- |
| Creative Commons | Non-Profit Organizations |
| Credit Card | Trade |
| Cubic Capacity | Units |
| Closed Captioning | Movies & Film |
| Common Criteria | Security |
| Cocos | Domain Names (TLD) |
| Country Club | Community |
| Child Care | Educational |
| C Compiler | Software |
| Código Civil | Spanish |
| Correlation Coefficient | Mathematics |
| Cancer Center | Oncology |
| Cocos Islands | Countries |
| Country Code | Telephone Country Codes |
| Colorectal Cancer | Oncology |
| Community Center | Community |
| Cámara de Comercio | Spanish |
| Cricket Club | Cricket |
| Carrying Capacity | Transportation |
| Control C | Language Codes (3 Letters) |
| Common Carrier | News & Media |
| Clear Channel | Companies & Firms |
| Coiled Coil | Electronics |
| Central Control | Military |
| Command and Conquer | Gaming |
| Cubic Centimeter | Oncology |
| BCC Full Form | Category |
| --- | --- |
| Bitconnect | Internet |
| British Chambers of Commerce | Regional Organizations |
| Berkshire Community College | Universities & Institutions |
| Banque Centrale des Comores | Banking |
| Banco Central de Cub | Banking |
| Banque Centrale du Congo | Banking |
| Bangkok Christian College | Universities & Institutions |
| Barbados Community College | Universities & Institutions |
| Bergen Community College | Universities & Institutions |
| Berkeley City College | Universities & Institutions |
| Baltimore City College | Universities & Institutions |
| Barisal Cadet College | Universities & Institutions |
| Ballarat Clarendon College | Universities & Institutions |
| Bay City Central High School | Universities & Institutions |
| Bee County College | Universities & Institutions |
| Bacolod Christian Center | Universities & Institutions |
| Basal Cell Carcinoma | Oncology |
| Body Centered Cubic | Chemistry |
| Boise Cascade Corporation | NYSE Symbols |
| Block Check Character | General Computing |
| Broadcasting Corporation of China | News & Media |
| Blind Courtesy Copy | General Business |
| Business Career Center | Educational |
| Bay Command Console | Military |
| Breast Cancer Center | Oncology |
| Battlefield Circulation Control | Military |
| Breast Cancer Coalition | Non-Profit Organizations |
| Battle Creek Central High School | Schools |
| Block Check Count | Networking |
| Base Cluster Commander | Military |
| Battery Control Central | Military |
| Baron Consulting Company | Companies & Firms |
| Basic Core Curriculum | Educational |
| Boston Community Cooperative | Community |
| Big Conspiracy Cover-up | Law & Legal |
| Battlefield Command Computer | Military |
| Brodwyn Chiropractic Clinic | Companies & Firms |
| Brightmoor Community Center | Community |
| Bristol Community College | Colleges |