1) ICC: International Cricket Council
The full form of ICC is "International Cricket Council". It is the cricket body that governs all cricket organizations worldwide. It is responsible for making the rules and regulations of the cricket game and makes sure that they are followed. ICC also appoints referees and umpires for international cricket matches. It was formed in 1909 by representatives from Australia, England and South Africa with the motto "Cricket for good" and its headquarter is located in Dubai, UAE. As of March 2020, Shashank Manohar is Chairman and Manu Sawhney is CEO of ICC.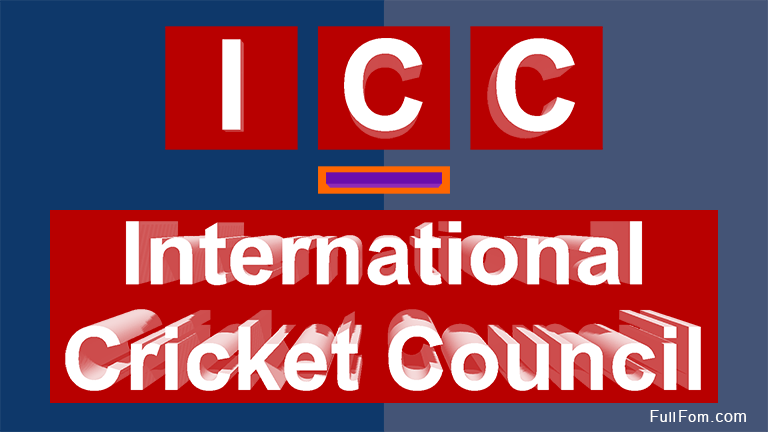 Currently, 104 countries with official cricket bodies are members of the ICC. Of these, 12 are full-time members that are authorized to play test matches: Afghanistan, Australia, Bangladesh, England, India, Ireland, New Zealand, Pakistan, South Africa, Sri Lanka, West Indies and Zimbabwe. The full members are the governing bodies of cricket in a country or group of associated countries that represent a geographical area and have full voting rights at the ICC meetings. The remaining 92 are associate members. Associate members are countries where cricket is firmly established and organized. It organizes world championship events such as Cricket World Cup, Women's Cricket World Cup, ICC T20 World Cup, ICC Women's T20 World Cup, ICC Champions Trophy and Under-19 Cricket World Cup.
2) ICC: International Criminal Court
The International Criminal Court (ICC) is an intergovernmental organization and an international court that sits in The Hague, Netherlands. It is a court of last resort for the prosecution of serious international crimes, including genocide, war crimes and crimes against humanity. Its objective is to complement existing national judicial systems. The ICC has made significant progress in drawing global attention to accountability. It does not prosecute children under 18 when a crime has been committed.
Other full forms of ICC
| Full Form | Category |
| --- | --- |
| I Can Count | General |
| Ice Cream Cone | Food & Nutrition |
| IEEE International Conference on Communications | Conferences |
| Ifield Community College | Universities & Institutions |
| Immaculate Conception College | Universities & Institutions |
| Incarnation Children's Center | Religion |
| Increased Cost of Compliance | US Government |
| Independent Consultants Cooperative | Companies & Firms |
| India Community Center | Community |
| Information Coordination Central | Military |
| Integrated Circuit Card | Hardware |
| Intelligent Cruise Control | Transportation |
| Inter Company Comparisons | Stock Exchange |
| Inter County Connector | State & Local |
| Interagency Coordinating Council | Educational |
| Inter-Club Council | Clubs |
| International Chamber of Commerce | Business |
| International Christian Concern | Non-Profit Organizations |
| International Church of Christ | Religion |
| International Coastal Cleanup | General |
| International Code Council | Professional Associations |
| International Color Consortium | Colors |
| International Commerce Centre | Buildings & Landmarks |
| International Conference on Communications | Conferences & Events |
| International Coordination Center | Military |
| International Criminal Court | Law & Legal |
| Internet Chess Club | Sports |
| Internet Commerce Corporation | Companies & Firms |
| Internet Content Creation | Internet |
| Interstate Commerce Commission | Military |
| Intra Class Correlation | Universities |
| Item Characteristic Curve | Electronics |