IRDA: Insurance Regulatory and Development Authority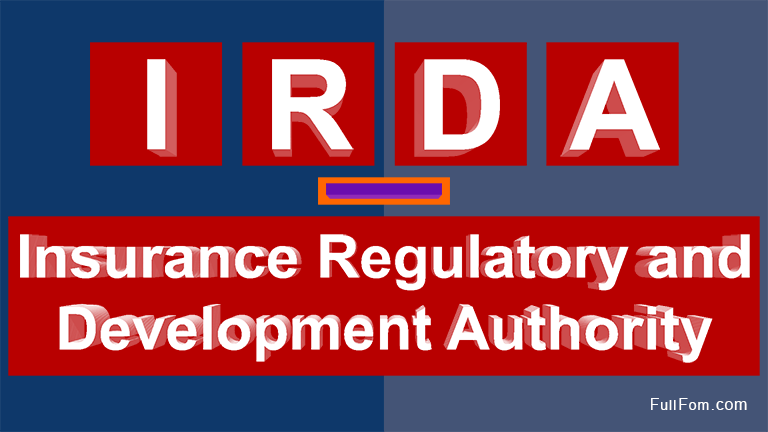 The full form of IRDA is "Insurance Regulatory and Development Authority". It is an agency administered by the Government of India. The Insurance Regulatory and Development Authority of India (IRDAI) regulates and promotes the insurance and reinsurance sectors in India. It was constituted by the Insurance Regulatory and Development Authority Act, 1999. The current president (as of March 2020) of IRDA is Mr. Subhash Chandra Khuntia. The agency's headquarters is in Hyderabad, Telangana, where it moved from Delhi in 2001.
IRDA is a 10-member body, including the President, five full-time and four part-time members, appointed by the Government of India. The functions of IRDAI are defined in Section 14 of the IRDAI Act of 1999, which are: Issuing, renewing, modifying, withdrawing, suspending or cancelling registrations, Protection of the interests of the insured, Levying fees and other charges, Regulation of a solvency margin, Promote and regulate professional organizations related to the insurance and reinsurance sector, Supervise the Fee Advisory Committee, Specify how the books should be maintained, Specify the qualifications, the code of conduct and training for intermediaries and agents.
IRDA: Infrared DATA Association
The Infrared Data Association (IrDA), in short, is a group of device manufacturers that has developed a standard for transmitting data via infrared light (IR) waves. It was founded in 1993 by some 50 companies. It provides specifications for the complete set of protocols for wireless IR communication. Its main task is to develop standards for the transmission of data through infrared light waves. Infrared light is used to transfer data from one device to another without using a cable or other connecting means. You just need to customize these devices with IrDA ports. Infrared data communication plays an important role in wireless data communications from the late 1990s to the early 2000s. IrDA technology is now out of use due to Bluetooth and WiFi development. It is still used in some environments where interference makes radio-based wireless technologies unusable.
Other full forms of IRDA
| Full Form | Category |
| --- | --- |
| Indian Runner Duck Association | Animal Welfare |
| Interim Resource Development Agreement | General Business |
| Intermittent Rhythmic Delta Activity | Unclassified |
| International Reborn Doll Artists | International |
| International Reconstruction and Development Association | Development |
| Iskandar Regional Development Authority | Rules & Regulations |