IMA: Indian Military Academy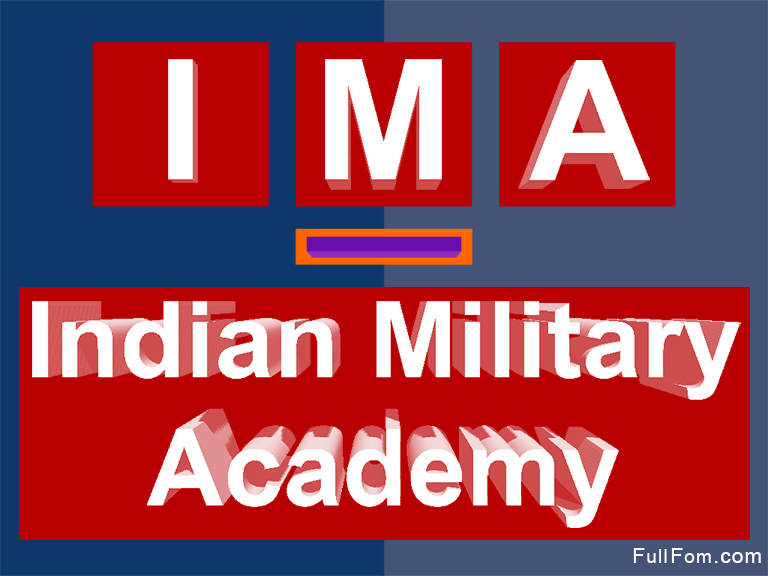 The full form of IMA is Indian Military Academy. It is a highly reputed officer training academy of the Indian Army located in Dehradun, Uttarakhand, India. Indian Military Academy (IMA) was set up in 1932 to train officers of the Indian Army. Its Motto is "Valor and Wisdom". The Academy is known for its glorious history and valiant traditions which are not only an integral part of the Nation's proud heritage but also form an indispensable sheet anchor of independent India's national security. As of April 2020, Lieutenant General J S Negi is the Commandant of IMA. The academy is spread over 1400 acres of land. It trains only male candidates; transforms them into army officers. It not only trains the candidates for the battlefield but also provides athletic facilities to groom the future army officers.
How to Join IMA?
The common exams through which you can join IMA are given below;
NDA Exam: Young and valiant boys, who have passed the 12th class with PCM, are eligible to appear in NDA. The age limit is 16.5 to 19 years. After clearing the NDA exam, the candidates undergo 3-year training at NDA Khadakwasla and after that 1-year training at IMA. Notification for this is made twice a year in the month of June and Dec.
CDSE Exam: A male graduate who has cleared the CDSE and the subsequent stages (SSB and Medical Fitness) can join the IMA. The notification is made twice a year, in the month of March/ April and September/October.
Technical Graduate Course (TGC): The students who are in the final year or have completed BE/BTech in the required subjects can Join IMA through Technical Graduate Course. The duration of the training is 1 year. Look out for the advertisement published in leading newspapers/employment news in May/Jun & Nov/Dec every year.
Other full forms of IMA
| Full Form | Category |
| --- | --- |
| Institute of Management Accountants | Professional Associations |
| Indian Medical Association | Medical Organizations |
| Integrated Motor Assist | Automotive |
| Inferior Mesenteric Artery | Anatomy & Physiology |
| Internal Mammary Artery | Anatomy & Physiology |
| Institut du Monde Arabe | Buildings & Landmarks |
| International Mineralogical Association | Scientific Organizations |
| Israel Medical Association | Medical Organizations |
| Integrated Modular Avionics | Air Transport |
| Illinois Manufacturers' Association | Trade Associations |
| Industria Macchine Automatiche | Companies & Corporations |
| Institute for Mathematics and its Applications | Research & Development |
| Institute of Mathematics and Applications | Research & Development |
| Indianapolis Museum of Art | Buildings & Landmarks |
| International Mycological Association | Scientific Organizations |
| Installation Management Agency | Military |
| Individual Mobilization Augmentee | Military |
| Interactive Multimedia Association | Electronics |
| Institute of Marine Affairs | Ocean Science |
| Interchurch Medical Assistance | Non-Profit Organizations |
| Information Management Associates | Companies & Firms |
| Institute of Molecular Agrobiology | Universities |
| Interim Measures Agreement | US Government |
| Instituto María Auxiliadora | Guatemalan |
| Information Management Area | Military |
| Independent Mortgage Advisors | Stock Exchange |
| International Multimedia Association | AMEX Symbols |
| Indore Management Association | Professional Organizations |
| Intelligent Maintenance Aid | Military |
| International Media Associates | Companies & Firms |
| Integrated Methodological Approach | General Business |
| Improved My Average | Universities |
| Important Millennium Achievers | Companies & Firms |
| WinImage Graphics | File Extensions |