SSB: Service Selection Board
In Army, SSB stands for Service Selection Board. It is an organization that assesses the candidates for becoming officers into the Indian Armed Forces (i.e. Army, Air Force and Navy). SSB is created by the Defense Ministry of India to conduct the interview for recruiting officers in Indian soldiers. It is designed to test "officer like qualities" in the candidates.
An Service Selection Board (SSB) board comprises assessors who are officials in the Indian Armed Forces and have their specialization as Psychologist, Group Task Officer(GTO) and Interviewing Officer. Altogether, there are thirteen Services Selection Boards across India, out of which four seats are for Indian Army, four seats are for Indian Air Force and five seats for Indian Navy. SSB is a 5 to 6 days assessment process. Successful candidates will remain for an intensive medical examination which takes four to five days at a military hospital.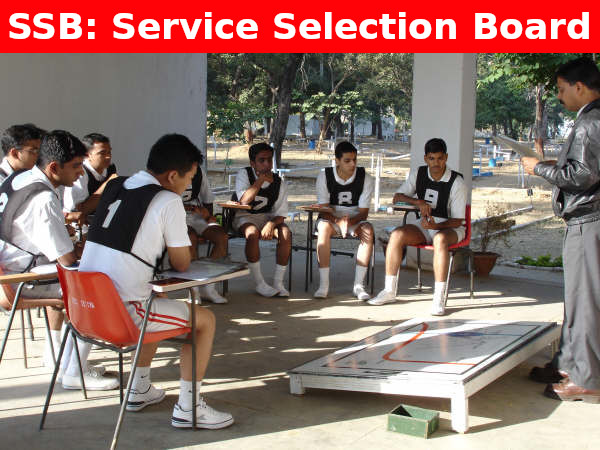 Eligibility for SSB
For SSB recruitment, candidate age should lie between 18 – 40 years.
Matriculation (10th Pass) or equivalent from a recognized board or institute.
Female candidate shouldn't be married or issueless widow.
The candidate must clear the Combined Defense Services Examination conducted by UPSC.
Candidated should clear PST and PET.
Other full forms of SSB
Full Form
Category
Sashastra Seema Bal
Police
Single Side Band
Communication
Statistisk Sentralbyrås
[Statistics Norway]
Census & Statistics
Single SideBand
Military
Super Smash Brothers
Sports
Star Spangled Banner
Universities
Sapporo School of Business
Universities
Since Sliced Bread
Chat
Securities Supervisory Board
Business
Scramble Status Byte
Assembly
Simple Site Builder
Software
Spirit, Soul, and Body
Religion
Single Strand Boxer
Clothing
Steering Stem Bearing
Transportation
St. Croix Sea Plane Base, Virgin Islands
Airport Codes
Single Shot Bolt
Military
Super Smash Bowl
Sports
Sugar sweetened beverages
Physiology
Self Service Banner
General
Salvo Squeeze Bore
Unclassified
Sashastra Seema Bal
General
Sekolo sa Borokgo
General
Service Selection Board
General
Scandinavian School of Brussels
Schools
Strategic Solutions for Business
Business
Student Services Building
Students