1) EWS: Economically Weaker Section
The full form of EWS is "Economically Weaker Section". In India, the EWS certificate is issued to people who belong to the category of the Economically Weakest Section of Indian society. The EWS is a new reserve subcategory in the General category, with an annual family income of less than ₹ 8 lakhs and not belonging to any reserved category, such as SC/ST/OBC (central list). It is a type of reservation scheme that came into effect in 2019. Eligibility to obtain the EWS certificate is based not only on the annual income of the family but also based on the held property.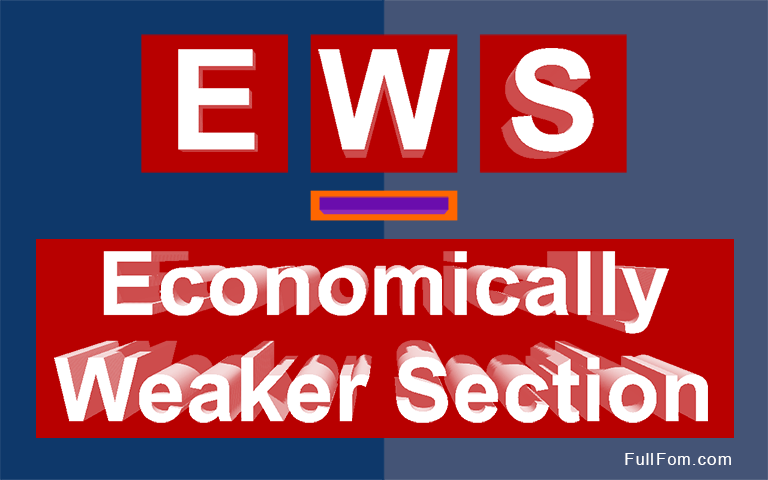 The terms Economically Weaker Section (EWS) and Economically Backward Class (EBC) should not be confused with each other. The definition of EWS was defined by the Government of India, while the definition of EBC and the most economically backward class (MEBC) varies in different states and institutions. The central government recently introduced the EWS reserve scheme to provide a 10% reservation for direct recruitment to civil posts and services in the Govt. from India for people who belong to the EWS category.
2) EWS: Early Warning System
An early warning system (EWS) is a technology and associated policies and procedures designed to predict and mitigate damage caused by natural and human disasters and other undesirable events. An EWS can be implemented as a chain of information communication systems and comprises sensors, event detection, and decision subsystems. They work together to predict and signal disturbances that negatively affect the stability of the physical world, providing time for the response system to prepare for the adverse event and minimize its impact. EWS is used to detect a wide range of events, such as vehicle collisions, missile launches, disease outbreaks, tsunamis, floods, earthquakes, avalanches, tornadoes, landslides, etc.
3) Other full forms of EWS
| Full Form | Category |
| --- | --- |
| Early Warning Score | Medical |
| Earth-Water Science | Academic & Science |
| East Woods School | Universities & Institutions |
| Eat Work Sleep | General |
| Electronic Watchdog System | Electronics |
| Elektronische Wegfahr Sperre | General |
| Emergency Warning Signal | General |
| Emergency Water Supply | General |
| Emerson Waldorf School | Universities & Institutions |
| Emma Willard School | Universities & Institutions |
| Empiracle Wierd Ship | General |
| Employee Written Software | Law & Legal |
| Engineered Wood Systems | General |
| English, Welsh, and Scottish | Regional |
| Enlisted Warfare Specialist | General |
| Enterprise-Wide Scheduling | General Computing |
| Environmental Waste Solutions | Environmental |
| EnviroStar Waste Service | General |
| Ethel Walker School | Universities & Institutions |
| Everyone Works Sundays | General |
| Exchange Web Services | General Computing |
| Executive World Services | Companies & Firms |
| Exodus World Service | General |
| Expert Work Station | General |
| Extreme Wide Shot | General |
| Eyes Wide Shut | General |