DSP: Deputy Superintendent of Police
In Police, DSP full form is Deputy Superintendent of Police. This is the rank of a police officer in the police department in India. DSP is a state police officer who represents the state police forces. Deputy Superintendent of Police (DSP) is equivalent to Assistant Commissioner of Police (ACP) and some as per state government rules can be promoted to IPS after several years of service. A DSP is most commonly known as a sub-divisional police officer (SDPO) who is in charge of a subdivision in the state of West Bengal. The rank is also known as circle officer (CO), here CO is not a rank but a post, in the states of Uttar Pradesh and Rajasthan.
How to become a DSP?
Getting general promotion from state police rank to gradually become DSP officer after serving around 15-20 years in police department.
Direct recruitment by UPSC after writing Group I exam and getting a good rank. Candidates who clear this exam undergo probationary training before being posted as DSP.
If you are a graduate, state PSC and pass with good rank. Select Police Service while filling the form as your first choice instead of Administrative Service.
For the post of DSP, exams are conducted from time to time to directly recruit police officers to this rank. Inspectors are also promoted to this post after the specified years of service. The rank insignia of this officer is three stars on the shoulder.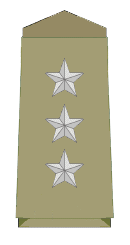 Qualifications required to become a DSP
It is mandatory for a candidate to be an Indian citizen to become a DSP.
Candidate must be physically and mentally fit.
To become a DSP candidate must be a also from recognized university and must be graduate in any stream.
According to the UPSC exam, the candidate's age should be between 21 to 30 years to become a DSP, in which OBC candidates are given 3 years relaxation, and SC / ST candidates have 5 years relaxation.
The minimum height for male candidate is 168 cms and for female candidate is 155 cms.
Minimum chest required for males is 84 cms and minimum chest expansion of 5 cms.
Other full forms of DSP
Full Form
Category
Digital Signal Processor
Information Technology
Digital Signal Processing
Computer and Networking
Delaware State Police
Police
Demokratik Sol Parti
[Democratic Left Party]
Politics
Durgapur Steel Plant
Firms & Organizations
Democratic Socialist Party
Politics
Diastasis Symphysis Pubis
Diseases & Conditions
Dainippon Sumitomo Pharma
Companies & Corporations
Digital Sound Processing
Electronics
Defense Support Program
Military and Defence
Directory System Protocol
General Computing
Domain Specific Part
General
Diarrhetic Shellfish Poisoning
General
Direct Stock Purchase
Stock Exchange
Defense Satellite Program
Military and Defence
Decessit Sine Prole
Latin
Direct Support Professional
Job Title
Delivery Service Partner
General Business
Differential Signal Processing
Electronics
Dawn Sign Press
News & Media
Departure Sequencing Program
Transportation
Dynamic Studio Professional Module (dynamic Studio)
File Type
Display parameters (Signature)
File Extensions
Dynamic Shift Programme
General
Distal Symmetrical Polyneuropathy
Neurology
Daftar Skala Prioritas
Indonesian
Digital Signalling Processor
General
Dr.halo Graphics Display Driver
File Type
Distribution Service Partner
General
Dynamic Syncopation Productions
General
Direct Sponsorship Program
Sports
Project (ms Developer Studio)
File Type
Decreased Sensory Perception
Physiology
Doubling Stock Price
Stock Exchange
Develop Succeed And Prosper
General
Digital Signal Processors
Computer Hardware