SI: Sub Inspector
The full form of SI is Sub Inspector. SI is the lowest-ranked officer who can file a charge sheet in court under Indian Police rules and regulations and is usually the first investigating officer. Officers subordinate to him cannot file charge sheets but can only investigate cases on his behalf. SI can be a station house officer in some states like Kerala. SI is generally accompanied by a few police personnel (like ASI, head constable, constables).
A sub-inspector (SI) ranks above an assistant sub-inspector of police (ASI) and below an inspector. Most sub-inspectors are recruited directly into the police and have better educational qualifications than lower-ranked police officers.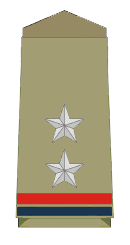 The insignia of a sub-inspector is two stars and a red and blue striped ribbon at the outer edge of the shoulder straps. It is similar to the insignia of a Subedar in the Indian Army. The shoulder straps of the Assistant Sub-Inspector shall have one star and a red and blue striped ribbon at the outer edge. It is similar to the insignia of a Naib Subedar in the Indian Army.
How to become an SI?
Procedure for SI in State Police Department is:
You should be a graduate in any stream
Age limit is 18 to 28 in most states with relaxation as per some category rules
Height 5′ 6″ in which chest is 79-84 inches which is not applicable for women the height for them is also 157cms
You must be physically fit
After Published Advt. Candidates should have PET and PST passed
Physical Efficiency Test (PET) is 1600 meters run and 20 pushups in 6:30 minutes
Qualified candidates are called for written test which is OMR based graduate level examination Syllabus varies from state to state. Some states have two papers and other have one. No -ve marking in maximum states.
After written test candidates are called for viva
After viva candidates should go for medical checkup and docs (documents) verification
Then they join their zonal police headquarters
After sometime they go for training in state police academy.
There may be some local variations like you have no interview to become SI in Delhi Police and instead you have to qualify CPO SSC SI exam which is conducted at national level. Check the website of your state police for more accurate details.
Other full forms of SI
Full Form
Category
Système International d'unités
[International System of Units]
Maths
Slovenia
Country Names
Silicon
Chemistry
Sports Illustrated
News & Media
Shift In
General Computing
Sacroiliac
Anatomy & Physiology
Swarm Intelligence
Programming & Development
Sinhalese
Language Codes
Statutory Instrument
Rules & Regulations
Slovenia (TLD)
Domain Names (TLD)
Signal Integrity
Electronics
Small Intestine
Anatomy & Physiology
System Integrator
Computing
Spark-Ignition
Automotive
Simple Interest
Finance
Supplemental Instruction
Universities & Institutions
Societas Iesu
[Society of Jesus]
Religion & Spirituality
Sports Interactive
Companies & Corporations
St. Ignatius College Preparatory
Universities & Institutions
Silay Institute
Universities & Institutions
Smithsonian Institution
Buildings & Landmarks
Survey of India
Departments & Agencies
Svenska Institutet
[Swedish Institute]
Departments & Agencies
Schweizer Informatik Gesellschaft
[Swiss Informatics Society]
Professional Associations
Solidaritat Catalana per la Independència
[Catalan Solidarity for Independence]
Politics
Socialist International
Politics
Solidaridad e Igualdad
[Solidarity and Equality]
Politics
Survival International
Medical Organizations
Province of Siena
License Plates
Substantia Innominata
Anatomy & Physiology
Suicidal Ideation
Diseases & Conditions
Stroke Index
Other Games
Station Inspector
Police
Skynet Airlines
Airline Codes
Samahang Ilokano
Regional Organizations
Spokane International Railroad
Rail Transport
Seller Id
Unclassified
Stand-In
Performing Arts
Something In
Food & Nutrition
Special Interest
Military and Defence
Singhalese
Language Codes (2 Letters)
Staten Island
State & Local
Smithsonian Institute
Ocean Science
System Integration
Military and Defence
Sandwich Islands
Countries
International System
Transportation
SAS Institute
Non-Profit Organizations
Semi-Insulating
Electronics
Self Inflicted
Physiology
Servicio de Investigación
Spanish
Self Injury
Physiology
Secure Internet
Cyber & Security
Signaling Intelligence
Computer and Networking
Still Image
Computer and Networking
Selectable Interface
Networking
Slow Import
Networking
Softimage Graphics
File Type
SONALLI
Indian Railway Station
Syst
Chemistry
Stability Index
Chemistry
Saturation Index
Chemistry
Standing Instruction
Banking
Simply Irresistible
Messaging
Silly I
Messaging
Kennedy Space Center Support Operations Directorate
Space Science
International Systems of Units (isu Preferred)
Space Science
Scientific Instrument
Space Science
Solar Inertial
Space Science
Special Investigator
Job Title
Siberian Islands
Country Specific
Signed Integer
Computer Assembly Language
Source Index
Computer Assembly Language
Small Interface
Computer Hardware
Socket Interface
Computer Hardware
Selectivity Index
Physics Related
Slight Inclusion
Physics Related
Stockmarket Indices
Stock Exchange
Sport Influenced
Sports
Sanctioned Individual
Sports
Sports Injection
Sports
Sports Information
Sports
Sports Injected
Sports
Special Intelligence
Military and Defence
Support Installation
Military and Defence