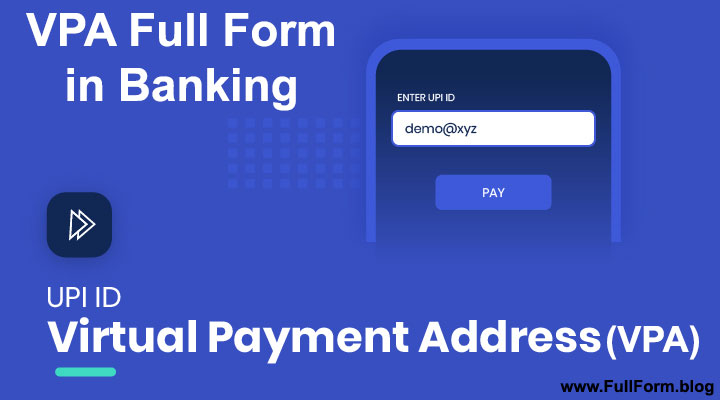 A virtual payment address (VPA) is an identifier that can be uniquely mapped to an individual account. It is an ID, which a user creates by linking their accounts to a bank's mobile application.Unified Payment Interface (UPI) services offer customers the option to create any number of VPAs for making and receiving payments.
How to create a VPA?
Download the UPI app from your bank. In fact, you can download the UPI app of any bank, for this you do not need to be your own bank. Your bank must have UPI enabled. Currently 23 banks are a part of UPI.
Link it to a bank account through your mobile number. Use the mobile number which is already registered at your bank.
You'll have to go through a mobile verification process, after which follows another verification round. This verification can be a security question, a grid or any such authentication technique.
Once the final authentication is done, create a VPA for the account you provided.
A VPA looks like abc@icici. You can check for availability and make one as you wish. This VPA is linked to your bank account.
You can submit to create a VPA.
Difference between VPA and UPI
A VPA or a Handle is a unique identifier for your account which allows to identify your transactions as exclusively yours. On the other hand, UPI is the service that creates these handles and allows you to make payments.
UPI enables bank account holders (of banks participating in UPI) to send and receive money using a Virtual Payment Address (VPA) without entering additional bank information like account number and IFSC code. On the other hand, A VPA is an ID, that a user creates by linking their accounts to a bank's mobile application. In simple to start using UPI as a payment option, all you need is a VPA.
VPA suffixes of some common banks
UPI Enabled Bank
VPA Address
National payment corporation of India
@upi
Allahabad Bank
@allbank
Andhra Bank
@andb
Axis Bank
@axisbank
Bank of Baroda
@barodampay
Bank of Maharashtra
@mahb
Canara Bank
@cnrb
Catholic Syrian Bank
@csbpay
DCB Bank
@dcb
Federal Bank
@federal
HDFC
@hdfcbank
ICICI Bank
@pockets
@icici
@okicici
IDFC Bank
@idfcbank
IndusInd Bank
@indus
Karnataka Bank
@kbl
Kotak Mahindra Bank
@kaypay
Punjab National Bank
@pnb
South Indian Bank
@sib
State Bank of India
@sbi
TJSB Bank
@tjsp
UCO Bank
@uco
Union Bank of India
@unionbank
United Bank of India
@united
Vijaya Bank
@vijb
Yes Bank
@ybl